From August 18 to 19, 2022, the 12th New Energy Vehicle International Forum was grandly held in Suzhou. With the forum theme of "Promoting Zero Emission", multiple topics ranging from the electrification progress and technology of OEMs, the battery, motor, and electronic control technologies, the powertrain technology, to the charging and battery swapping technologies, etc. were discussed. More than 500 industry experts from associations or companies such as China Association of Automobile Manufacturers, BMW, Mercedes-Benz, Geely, Dongfeng, Changan, Huawei and Stellantis attended the forum to investigate the core technologies and development trends of new energy vehicles. Shenzhen KEHUA won the Award for Influential Brand in Charging and Battery Swapping Industry of 2022 after a comprehensive evaluation of R&D strength, innovation ability, market layout, after-sales service and other dimensions.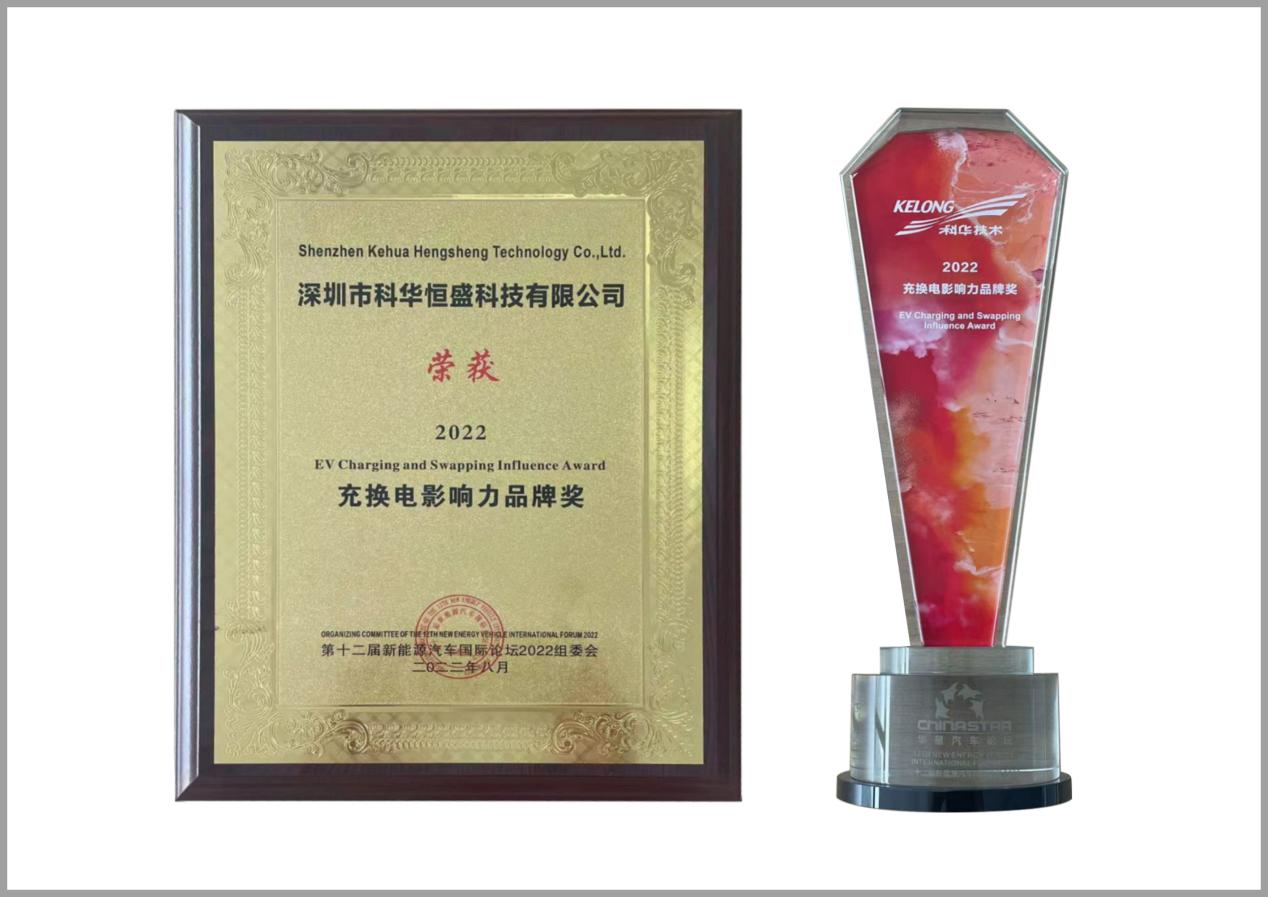 Influence represents the popularity and value of a brand, and also the industry and consumers' direct attitude and recognition of the brand. Shenzhen KEHUA won this award for its accurate grasp of the development trend of the industry and its excellent product strength.
As a leading provider of charging and battery swapping infrastructure products and solutions in China, Shenzhen Kehua owns over 30 years of technical and product foundations in power electronics industry and a complete set of independent technologies ranging from individual modules to pile assemblies, which enable it to possess a product matrix including AC piles, DC piles, liquid-cooled supercharging piles, V2G charging piles, battery swap station chargers, and charging management platforms. For various scenarios of new energy mobility, Shenzhen KEHUA provides intelligent energy solutions for intelligent mobility, such as public charging stations, battery swap stations, V2G PV, energy storage, charging and inspection, and mobile storage and charging to meet customer needs in an all-round way.
Long lasting and persistent effort delivers solid and promising future. In the future, Shenzhen KEHUA will continue to increase its R&D investment in the field of charging and battery swapping, continuously launch more intelligent, efficient, safe and reliable products and solutions, thus empowering green mobility and actively exploring a low-carbon, environmentally friendly and intelligent path to sustainable development.